Exhibition : Denis Monfleur. People of stone.
4 May 2023 – 7 January 2024
Museum Gallery forecourt, gardens and main courtyard of the Town Hall  
     
2 June 2023 – 7 January 2024
Fine Art Gallery and Museum

Denis Monfleur. People of Stone is the first major solo exhibition on the artist in a French Museum. Featuring over 100 works by Monfleur (born in 1962 in Périgueux), it above all aims to show his most recent and emblematic works, through a range of different formats and materials.
In both wings of the museum, more than a hundred pieces are presented. Among them, about fifteen resonate, by their thematic or formal correspondence, with the permanent collections of paintings and sculptures; a set of large-scale works called «Monumental» are presented outdoors in the garden and the main courtyard of the Town Hall and on the forecourt of the Gallery and the Bordeaux Saint-Jean train station.
Juxtaposing powerful and monumental sculptures, made in quarries and weighing several tons, with smaller, more intimate and domestic pieces, the artist is one of the few sculptors of his generation to uphold the ancestral tradition of direct carving and to tackle the hardest stones. His work belongs to a secular tradition of sculpture, from Romanesque art to Louise Bourgeois, via Michelangelo, Brancusi, Dubuffet and Chillida.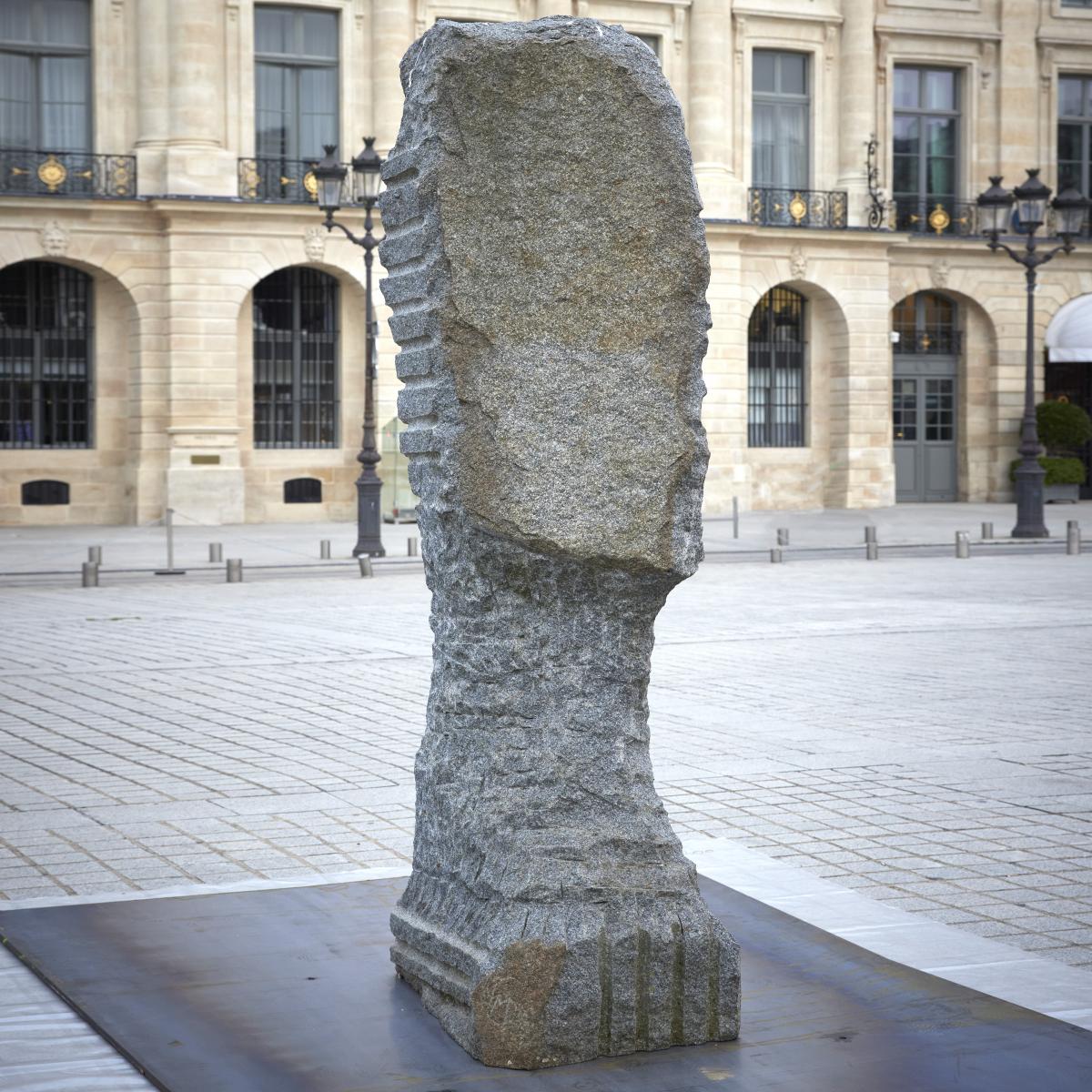 Tête monumentale III, 2010, granit, place Vendôme, 2022
L'homme sauvage, détail, 2019
© ADAGP Paris 2023, Denis Monfleur, photo: S. Briolant.
A battle between man and matter    
Denis Monfleur, a self-taught artist who has been working since the mid-eighties, shares his time between his studios in Fontenay-sous-Bois (Val-de-Marne) and in his native Périgord. Alongside his early career working for José Subira-Puig, Dietrich-Mohr and Marcel van Thienen, he gradually began to develop his personal approach. With the exception of a piece made in clay during his youth and recently cast in bronze (Portrait de Kafka, 1983), all the exhibited pieces span the period from 2010 to 2023, a time when the artist joined the Claude Bernard gallery in Paris. This was a pivotal step in Monfleur's career which saw him expand his visual vocabulary through the use of new techniques and materials such as lava, basalt, basalt columns and diorite. He also explored the multiple possibilities of polychrome, with a particular focus on patinas, and is developing an entirely new technique for enamelling volcanic lava stone.
Works to be touched
All the works on display in the museum Gallery can be explored through touch. One of Monfleur's sculptures, Dubuffet (2019), in wood and bronze, is included in the exhibition Please Do Touch! Art and Matter, which plays on visitors' perceptions of materials and their different senses.
Read the press release here.