Please Do Touch ! Art and Matter
2 June 2023 – 7 January 2024
Gallery of Fine Arts, 1st floor
One of our company thought to ask our blind man if he would like to have eyes. "If it were not for curiosity," he replied, "I would just as soon have long arms: it seems to me my hands would tell me more of what goes on in the moon than your eyes or your telescopes." Diderot, Letter on the Blind for the Use of those who can see, 1749.

At the polar opposite of the usual practices and rules in museums, Please Do Touch! invites you to enjoy a surprising and sensory experience of sculpture. Alone, blindfolded with an audioguide or in pairs with a friend, family member or mediator, touch, feel, handle or smell stone, wet clay and cast iron through an olfactory device that fully immerses visitors in the works.
An initiative of the Musée Fabre in Montpellier, this unprecedented, collective and travelling exhibition presents reproductions of works from six Fine Arts museums (Montpellier, Lyon, Nantes, Lille, Rouen and Bordeaux), all members of FRAME – FRench American Museum Exchange, a cultural cooperation network that, since 2000, has brought together thirty-two major museums in France and North America (United States and Canada).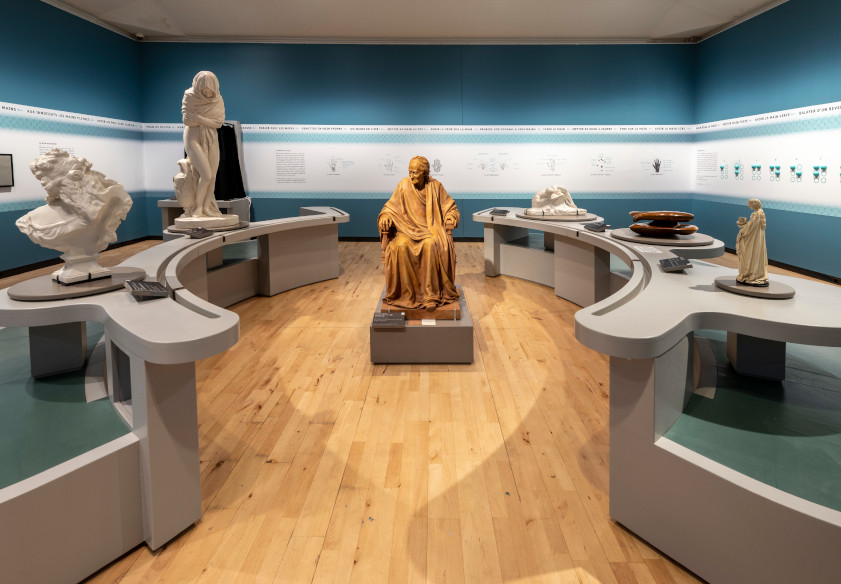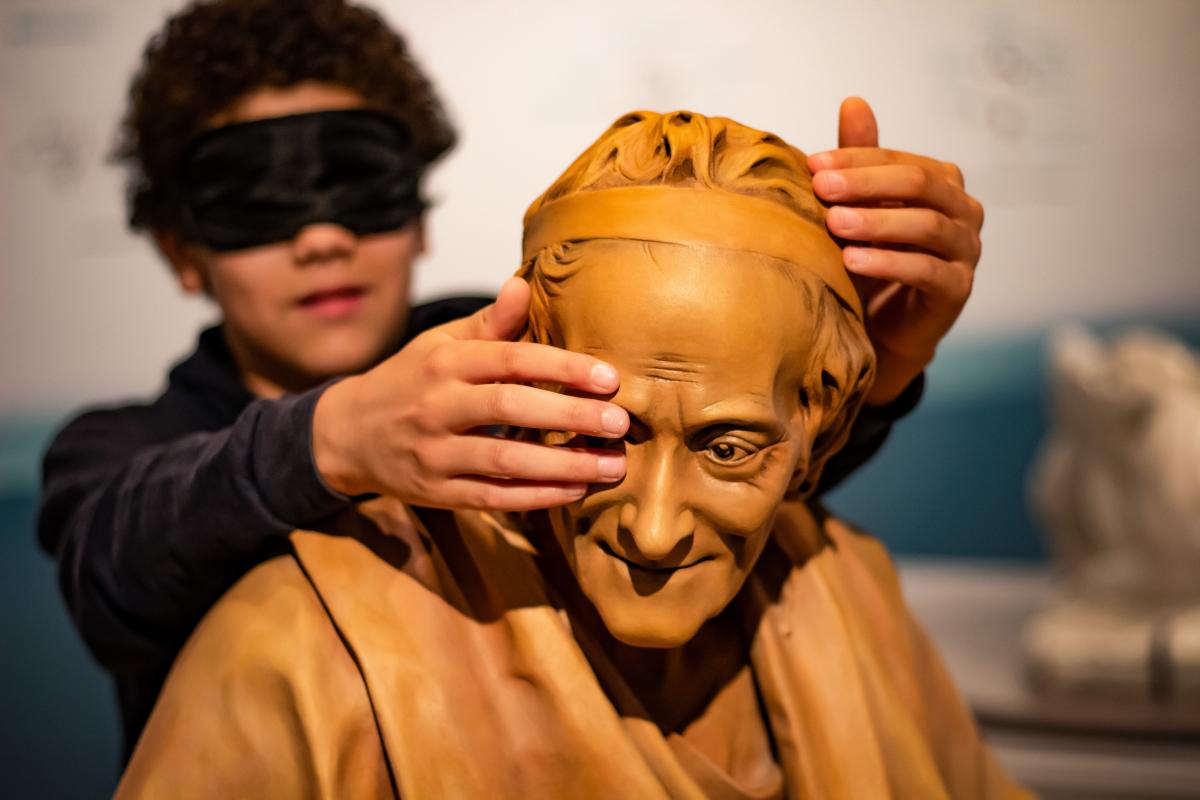 Vues in situ de l'exposition Photo : F. Deval et E. Leroy Cresto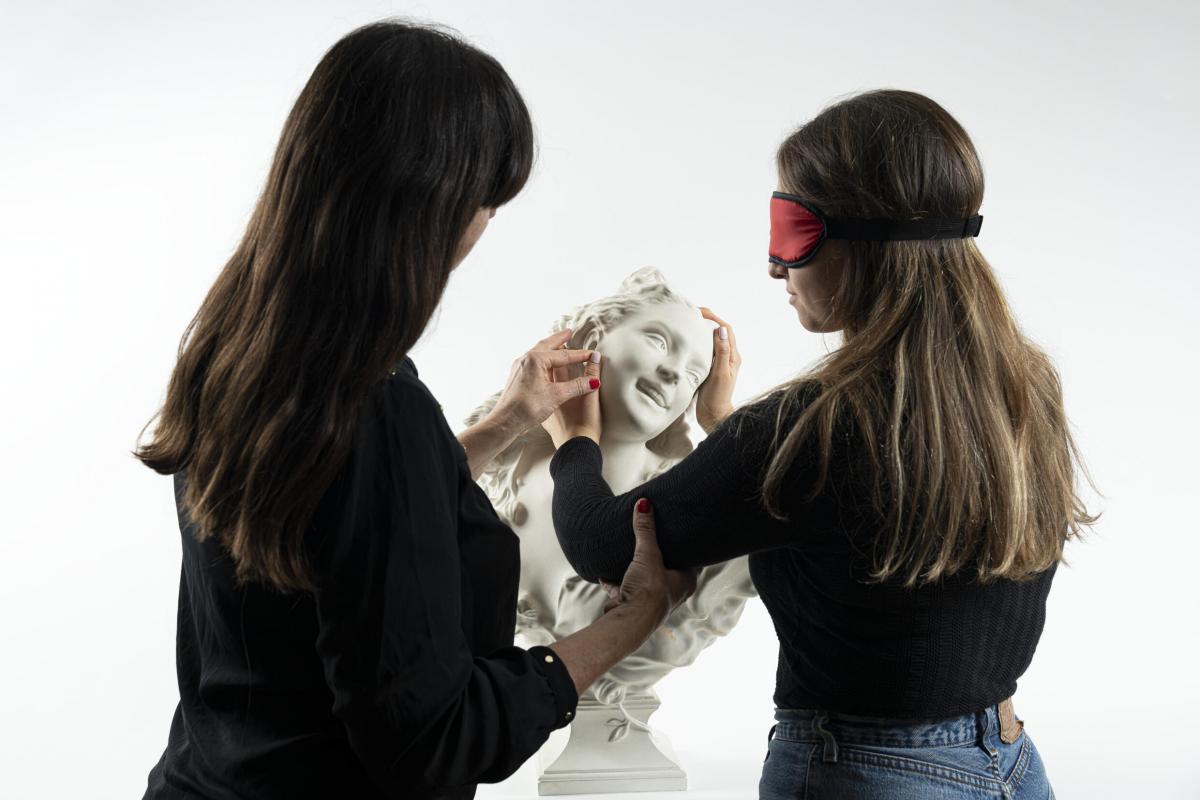 Jean-Baptiste Carpeaux, La Rieuse, 19e siècle, reproduction © Photo : F. Deval
A sensory exploration of the human figure
Please Do Touch! offers a sensory exploration of the human figure, as well as the techniques and materials used in sculpture from Antiquity to 20th century abstraction. Based on four modules, it presents various perspectives on sculpture (curators, artists, etc.), explains the different steps involved in making a sculpture and allows visitors to understand the methodology of touch and to see with the body.
An inclusive approach
The fruit of a partnership with visually disabled participants, the exhibition draws on their practice to invent new forms of mediation aimed at all visitors, both sighted and non-sighted or partially sighted, and offer a unique tactile experience as part of an inclusive and humanist approach.
To help you during your visite you can download the exhibition guide right here.

Jean-Baptiste Carpeaux, La Rieuse, 19e siècle, reproduction © Mairie de Bordeaux, F. Deval
The exhibition is collectively curated by the teams of the different partner museums.
Curators for the Musée des Beaux-Arts de Bordeaux:
Sophie Barthélémy, Director of the Museum
Isabelle Beccia, in charge of Institutional Mediation at the Museum
The exhibition was originally designed with the FAF APRIDEV associations and the collaboration of Laure Olivès, consultant in tactile mediation at the Musée Fabre - Montpellier Méditerranée Métropole.
Scenography and graphic design: Version Bronze; Artprotec;
Tactile reproductions: Tactile Studio; Atelier de moulage de la Réunion des Musées Nationaux - Grand Palais ;
Audioguides and sound design: Primate Audio; Les muséastes;
Videos: Cyril Laucournet; MStream.